GET READY FOR THE MARCH IN 2016.
The Arc is hosting the March for Respect in 2016 on March 26.  We are so excited to be back and stronger this coming year.  Check back with this website for future details.
Sponsorship   |  Group Leaders Info  |  Group Leader Packet & Sign-Up Forms |  Vendor Info Fair Details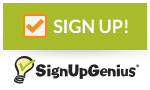 To see if your group has been created yet, click here at Group Member Registration.  You can view teams alphabetically and get signed up on your team!
If you are interested in signing up as an individual, please register under "Individual Walkers." It's the very first group listed!  
If you have any questions, please reach out to Amanda Zrile.